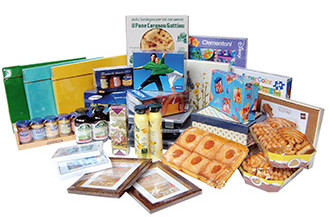 Guarantee a high-quality wrapping solution with Adpak's shrink-wrap machines.
We supply a wide range of shrink-wrapping machines, including chamber machines, heat shrink tunnels, and L-sealing machines. Our machines can encase your items in a secure, close wrap of cling film that keeps them fresh and contaminant-free. Consequentially, shrink wrapping is a more robust alternative to other wrapping solutions. Stretch wraps are an affordable and efficient way to wrap perishable items, including food and medical supplies.
We supply specialist shrink-wrapping machines to businesses in many sectors. Our specialist sectors include food and beverages, manufacturing, pharmaceuticals, cosmetics, engineering, and personal care. Our shrink-wrapping machines can quickly and reliably wrap a vast number of products in a short space of time. Shrink-wrapping increases the shelf life of your products and prevents germs, bacteria and other contaminants from infiltrating your packaging.
---
What are Shrink Wrapping Machines?
Shrink wrapping machines are packaging machines that use heat to shrink a plastic film around a product. Heat is first applied to the plastic film wrapped around the product, causing it to shrink and conform to its shape. A tightly sealed package is created through this process, helping to protect the product during transportation, storage or as a high-quality display pack.
What are the Benefits of Shrink Wrapping Machines?
Adpak shrink-wrapping machines offer a range of benefits, including:
Efficiency: We design our machines to provide efficient and quick packaging solutions, enabling businesses to save time and reduce labour costs.
Protection: Shrink wrapping helps to protect products from damage during transportation, storage or as a high-quality display pack.
Customisability: We offer machines that can be customised to suit specific business needs, ensuring that businesses get the most out of their investment.
Improved Life: Shrink wrapping can protect products from moisture, dust, and other environmental factors.
Ease of use: Our machines are easy to use and require minimal maintenance, reducing downtime and maintenance costs.
What Products Are Ideal for Shrink Wrapping?
Shrink wrapping machines can be used to package a wide range of products, including:
Food products: Our machines are commonly used for packaging products such as meat, poultry, cheese, and vegetables.
Beverages

: Shrink wrapping is also used for packaging beverages such as bottled water, soft drinks, and juice.

Pharmaceuticals

: We use our machines for packaging pharmaceutical products such as tablets and capsules.

Consumer Goods

: The packaging of consumer goods such as cosmetics, toys, and electronics widely utilises shrink wrapping.
Our range of shrink-wrapping machines
We supply shrink-wrapping machines that are suitable for a wide variety of jobs and processes. Before you choose a shrink-wrapping device from us, it's essential to consider what you want to achieve. What are your packaging requirements, how big are the items you want to shrink wrap, and how fast will you require a changeover?
Our range of shrink-wrapping machines includes:
Machines shrink the wrap around a product in a heated chamber to form a protective layer.
L-sealing machines

use L-shaped bars to seal multiple products simultaneously. These are ideal for filling large volumes of shrink-wrapped products.

Heat shrink tunnels, which shrink cling film around a product using heat similar to chamber machines.
Flowrapping machines

can wrap and package a product for its end user.
We stock a versatile range of shrink-wrapping machines. Our stock includes ten chamber machine models and two sizes of L-sealing devices. No matter the scale or complexity of your business's shrink-wrapping needs, we can recommend, supply and install a suitable shrink-wrap machine to suit. We also provide companies with shrink-wrapping accessories, including shrink-wrap film.
Shrink-wrapping solutions for any business.
Our team of packaging experts can help you find the suitable shrink-wrapping machine for your business, no matter your requirements, from high-volume L-sealing machines that can package up to 2,400 products an hour to our most affordable chamber machines. We stock a versatile range of shrink-wrapping devices and accessories for every sector and industry we operate.
If you want to cut costs, we also supply used shrink-wrap machines. There are many benefits to buying a used shrink-wrap machine. Fundamentally, it's a simple way to keep your overheads low without compromising performance or efficiency. At Adpak, we only sell high-quality used shrink-wrap machines that we've verified to be in complete working order. Used packaging machines are an excellent choice for start-ups and small businesses looking to grow their operation.
Why choose Adpak?
At Adpak, we have supplied businesses across the UK with high-quality, state-of-the-art packaging machinery for over 30 years. We work with businesses of all sizes across almost every sector to ensure they can package their products safely, securely, and attractively. We've installed over 10,000 machines for our clients throughout the years and offered the same excellent customer service, aftercare and support to all of our clients.
Our shrink-wrapping machines offer businesses of all sizes a cost-effective way to package products and items for storage, delivery or sale. As a result, Shrink-wrapping keeps your products safe from the elements by forming a tight seal around the thing that prevents even the tiniest speck of dust from reaching your product. By choosing shrink wrapping over more traditional forms of packaging, you can save money, space, and time.
Please browse our range of shrink-wrapping machines below or contact us today. Alternatively, call 01282 601444 to learn more about our shrink-wrapping devices and accessories.
Every shrink wrap machine excels within its particular focus. As a result, Adpak has many options to suit any manufacturing or packaging procedure. Most of our devices are automatic, such as our Chamber Machines, meaning you can leave them to package the company's goods with minimal risk of stoppages. The next step is to contact us to help you choose the correct shrink-wrap machine for your business. With help from our team, we can make everything more convenient for you and your company with the right choice.