With over 27 years' experience providing packaging systems to thousands of companies across various sectors, Adpak has built up significant specialist industry knowledge.
From food packaging to healthcare and building products through to e-commerce autobagging systems, Adpak offers a variety of packaging machines to meet the diverse requirements of our customers. From large multinationals to new start-ups, we can offer a solution to meet your needs, backed up by our market-leading technical support and packaging film sales teams.
In addition to standard packaging machinery installations, Adpak can add value to our customers by applying the latest technology and innovations to unusual and sometimes difficult packaging problems that arise due to changing nature of today's consumer market.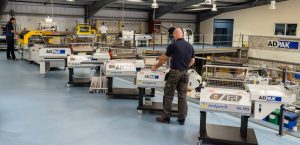 Specialist Sectors
Find out more about our specialist sectors below, or if your sector isn't listed, contact us to learn more about how Adpak can help your business.