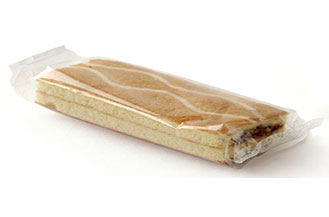 Wrap your products with reliable, robust flowrapping machines.
Adpak have been providing flowrapping machines and solutions since 1987. The excellent quality of machinery from both Delfin and Lorapack is based on know-how, product development and technological research, which endorses their reliability, robustness and the long life of all their products.
Flowrappers are designed for bagging applications on a variety of products in Polypropylene film. Products wrapped on these machines include; cakes, ink cartridges, tortillas, sandwiches, pharmaceutical, cosmetics and a whole range of hardware & textile products.
---
What are Flow Wrapping Machines?
Flowrapping machines are automated packaging systems that wrap products in a sealed, flexible material. They are widely used in the food and non-food industry to package various products, including bakery, confectionery, fresh produce, and pharmaceutical products. Flowrapping machines can handle multiple product sizes and shapes, making them a versatile packaging solution.
How do Flowrapping Machines Work?
Flowrapping machines take the product and feed it into a continuous flow of packaging material. The packaging material is then wrapped around the product, sealed, and cut to the desired length. The result is a securely wrapped product ready for shipment or as a shelf ready pack. Businesses can customise flowrapping machines to fit specific packaging needs, such as the size and shape of the product.
What are the Benefits of Flowrapping Machines?
Flowrapping machines provide a range of benefits to businesses, including:
Improved Product Quality: Our machines ensure secure and hygienic wrapping of products, reducing the risk of contamination and damage.
Versatile: The machines can handle various product sizes and shapes, making them a versatile packaging solution.
Customisable: Flowrapping machines can be customised to fit specific packaging needs, such as the type of packaging material and the wrap's design.
Packaging: There are many materials to choose from when wrapping products, such as polypropylene (plain or printed) and paper. Polypropylene offers strength, flexibility, and customisation options, while paper provides versatility, eco-friendliness, and a pleasant tactile experience.
---
Machines Types
Adpak provides a comprehensive suite of flowrapping systems. Below we have provided examples of our most popular machines. For more information on our systems or to arrange a demonstration, please call 01282 601444.