JD Williams boosts production capacity with Axiom and Adpak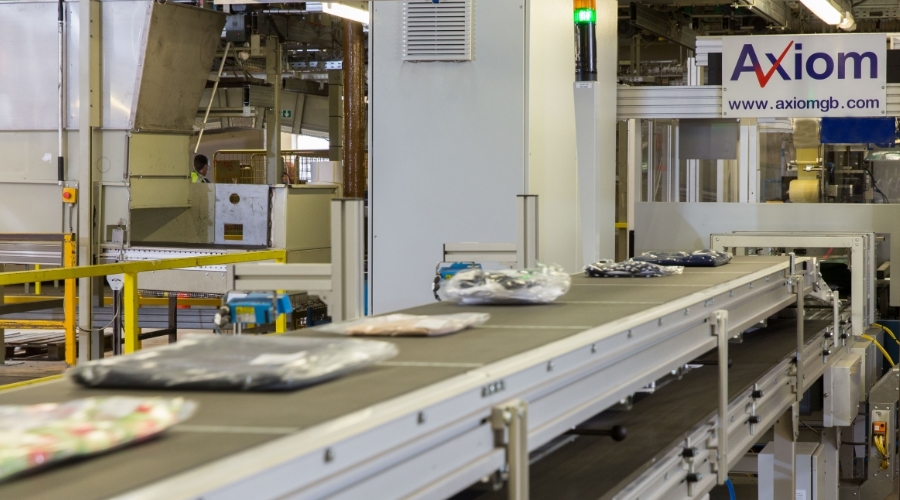 The UK's largest independent home shopping retailer, JD Williams, has increased production capacity with the installation of an automated packaging line from Axiom GB, including a specialist e-commerce auto-bagging machine from Adpak Machinery Systems.
Axiom bought a BVM Compacta 7534 packaging machine from Adpak as part of a project to increase capacity at JD Williams' Lilac & Briar Mill facility in Shaw, Lancashire.
The aim of the project was to provide additional throughput capacity and speed through automating the packaging and despatch of a range of items ordered from JD Williams' website. The company currently processes around 150,000 items per day, with around ten per cent of these being single items which were all being packed and labelled by hand.
The Compacta machine supplied by Adpak as part of the Axiom system, automatically collates products with customer data using a barcode label. Each order is then scanned to identify whether any associated marketing literature should be included with the item. If so, the correct piece of literature is automatically dispensed (from one of five dispensers) to accompany the product. The system then prints the delivery paperwork before wrapping the product, delivery note and marketing collateral in a JD Williams branded heavy-duty poly mailing bag. Finally, the bag is labelled with the customer's delivery address ready for final electronic checking and despatch.
On average, the fully automated system processes and packs 1,200 units per hour while guaranteeing 100 per cent accuracy.
By automating a time-consuming and labour-intensive process, the new packaging line has achieved a 20 per cent increase in average capacity and reduced costs by 20 per cent for JD Williams.
John Wilson, Head of Operations at JD Williams commented:
"With the old manual system we struggled to maintain a throughput of 200 items per person per hour. Using the new automated packaging line we now consistently achieve 1,200 items per hour.
"We're constantly looking to improve our business, to get our products out of the door faster, more accurately and cheaper. Consequently, we liked the totally automated aspect of the solution Axiom put forward."
"In fact, we're so pleased with the solution we are already talking to Axiom about a similar project in the near future."
Andrew Lupton, Production Director at Adpak added:
"For volume e-commerce businesses like JD Williams, investment in automation is critical to being able to cost-effectively meet the demands of a growing customer base, while dealing with demand spikes like the Christmas period, Black Friday, and seasonal sales.
"We are seeing significant demand in the e-commerce sector for automated packaging systems, and we are already helping several leading online retailers maximise capacity through automating their packaging, despatch and returns processes."