Four industries that could benefit from a spiral wrapping machine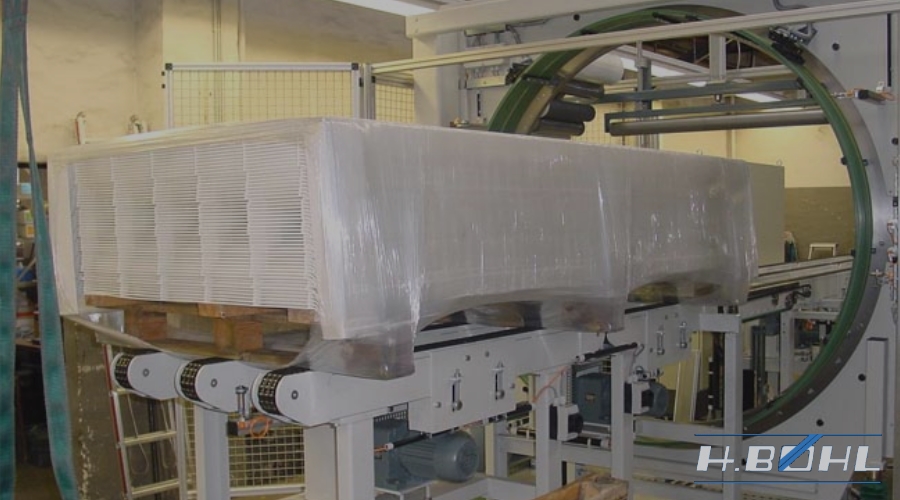 In today's fast-moving, technology-driven business world, swift and secure delivery of your product means the difference between delighted and disgruntled customers.
As the UK agents for H BÖHL spiral wrapping machines, Adpak has developed an innovative solution that uses BÖHL machines as an e-commerce and secure shipping packaging system.
So how does a spiral wrapping machine operate? The product is secured to a cardboard base using strong, clear, stretch wrapping film. The base is then placed into a snug-fitting cardboard box that is secured and labelled for delivery.
This is especially efficient for suppliers of bulky and irregularly shaped products needing fast, robust packaging and labelling ready for shipping. We have identified four industries for which the system is especially effective:
Building products
The machine can be adapted for building products businesses who require an e-commerce solution for rapid filling, packing and labelling. Products are secured to a cardboard tray and then automatically packed into a protective box.
Adpak's BÖHL spiral wrappers operate by continually rotating around the product, making these state of the art machines particularly effective for packing anything heavy, bulky, or long – such as lengths of timber.
Engineering
For sectors such as automotive and aerospace, it is vital that products are packed fast and firm, ready for national and international transit.
BÖHL spiral wrapping machines are specifically designed to pack products that are large or small, strong or fragile, rectangular or ring-shaped – making spiral wrappers a perfect fit for the engineering and industrial sectors.
Woodworking
Big, heavy and bulky items like assembled cabinets and doors present no problems to the spiral wrapper.
UK furniture and joinery companies produce some of the most sought-after products in the world, and at Adpak we are dedicated to ensuring these beautiful items are safely and securely packaged to arrive with the end user in pristine condition.
Logistics
Logistics and transport businesses need the flexibility to quickly and easily wrap different types of products – and the adaptability of a BÖHL system means they can do this efficiently and cost-effectively.
With the exponential growth of e-commerce and next day delivery, we anticipate powerful demand in the logistics industry for BÖHL wrapping machines – which facilitate easy and fast despatch of products, without the need for wasteful box filler to secure the product for delivery.
German precision engineering delivers multiple benefits
BÖHL machinery delivers significant advantages, especially high efficiency, low energy consumption, modest consumables costs, minimal noise levels, short set-up times, and interlinkage with other equipment – not to mention a comprehensive choice of precision engineered machinery.
Adpak can also supply films for the machines in a range of widths – 125cm, 250cm and 500cm – to eliminate waste and maximise return on investment in packaging supplies.
BÖHL has been manufacturing spiral and twist wrapping machines in Hückeswagen, Germany since the 1920s. The manufacturer's advanced engineering products are now supplied in more than 40 countries around the world.