Dematic launches new e-commerce auto-bagging system in partnership with Adpak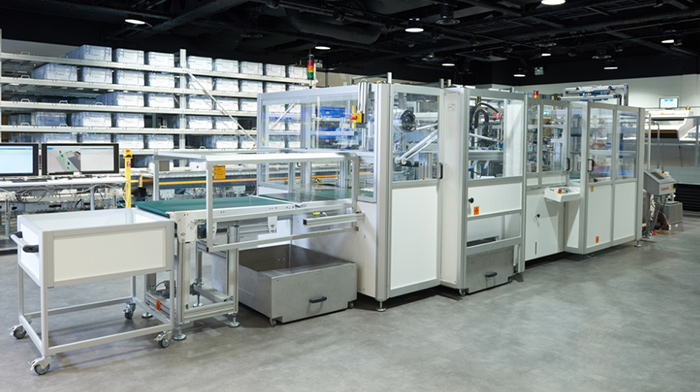 Global logistics specialist Dematic has launched a turnkey, automated packing and labelling solution for consolidating and bagging ecommerce orders for dispatch. Working with packaging machine specialist, Adpak, and labelling solutions provider, Logopak, Dematic has developed the intelligent software needed to manage and consolidate orders, print labels and seamlessly integrate the solution with client warehouse management systems (WMS).
Suitable for end-of-line applications for automated goods-to-person picking processes or as a standalone system for more manual warehouse operations, the Dematic Auto Bagging Solution will enable omni-channel businesses to reduce operating costs, upgrade customer services through later cut-offs for next-day delivery, and reduce shipping costs by optimally tailoring pack sizes.
The Dematic Auto Bagging Solution subsystem operates through a single interface to the client's WMS, providing a solution to automatically: load goods, scan delivery notes, measure goods, envelope-trim and seal goods, and label packages. Picked items are either manually placed on the feed belt – or in the case of an end-of-line process, automatically channelled in sequence – consolidated as per order, measured for optimal pack size and then bagged using bespoke packaging material that is cut and sealed, all in one automated process.
Order accuracy and customer satisfaction are assured with Dematic iQ software. Every delivery note is scanned and verified against the dispatch label, ensuring the right order is delivered to the right customer.
Working at a rate of up to 1,320 packages per hour, the Dematic Auto Bagging Solution has the potential to reduce the requirement for manual packing resources by up to 90%. In addition, the compact footprint (35 – 50 sq m) needed for the machine frees up warehouse space for other value-adding processes.
Simon Houghton, Sales Manager, Product Solutions, Dematic Northern Europe, explains how the subsystem brings greater consistency, productivity gains and cost savings to e-fulfilment operations. "The typical rate at which a manual packer can select the right size bag, place the goods in the bag, make sure the dispatch note is included and then print the label and apply it, is around 120 packs per hour – whereas, the Dematic Auto Bagging Solution offers up to 1,320 packages every hour. With this level of productivity the labour force can be redeployed to focus on service enhancing activities, such as picking goods much later in the day and so pushing back order cut-off times for next-day deliveries. In ecommerce, later cut-offs can offer a powerful competitive edge."
Dematic has already integrated the solution for a leading UK department store, helping the business to achieve significant productivity gains for its ecommerce operations.
Simon Houghton says, "The Dematic Auto Bagging Solution offers an exciting new opportunity for Dematic, especially where existing ecommerce customers could benefit from its liberating technology – freeing up space, resources and cash." Adding: "The subsystem also has great potential as a standalone solution for heavily manual warehouses, where automating the packing operation has big benefits in terms of removing packing desks and enabling the redeployment of staff."
Over 50 technical experts from some of the UK's leading retailers, 3PLs and automation consultancies attended a series of special customer days on the Dematic Auto Bagging Solution, held on two days, last month, at Dematic's state-of-the-art offices in Adderbury, Oxfordshire. Attendees were treated to seminar sessions on the new technology and a live demonstration of the Dematic Auto Bagging Solution.