Fresh thinking from Adpak speeds up personal care products packaging process for client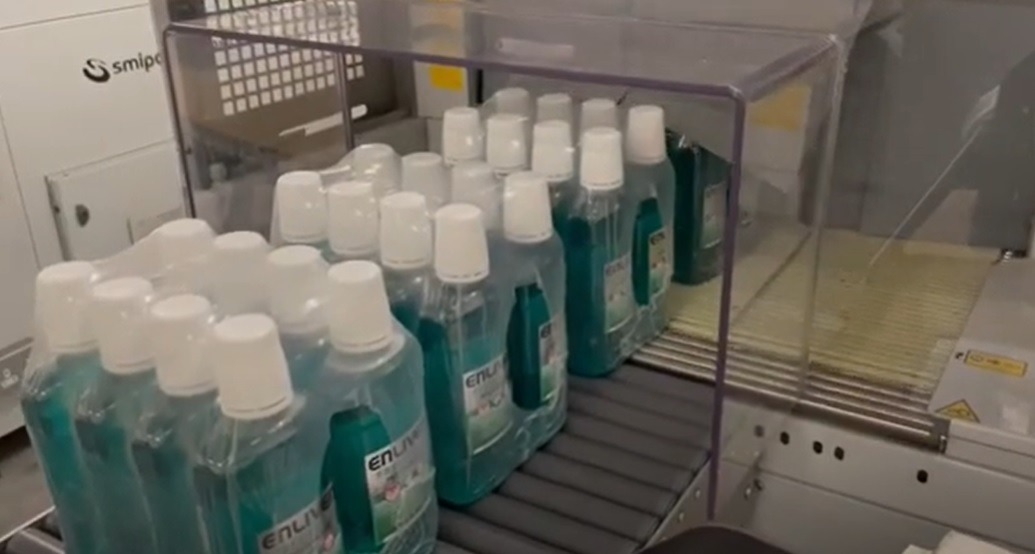 Client: Royal Sanders, Preston
Founded in 1851, Royal Sanders is a leading provider of personal care products – from handwash and deodorants, to hair care and baby toiletries. With manufacturing facilities in the Netherlands, Belgium and the UK, Adpak has worked with Royal Sanders' UK team in Preston for more than 15 years.
Client requirements
Royal Sanders were already using several of Adpak's packaging machines, including the BP800 Semi Automatic and the BP800AR 230R Side Feed Automatic, to support its busy production lines in meeting demanding output targets and ensuring a smooth process.
However, there was one area of production in which the company were facing a new challenge. A member of staff was required to sit by existing machinery on a mouthwash bottle packaging line and, due to its shape, manually turn the bottle from narrow edge leading to wide edge leading – greatly impacting the speed of the process as a result.
The company knew they would need a solution to eliminate the need for this manual task, which would perform at the required production speed of 10-11ppm and increase productivity and efficiency.
Services provided
Following a consultation with Adpak's experienced team, a suitable machine was found and proposed to the client. This was the installation of the Adpak BP800AR 150Z, a piece of equipment featuring two pushers which take a product through the machine as per the customer's requirements.
However, there were additional challenges at hand. These included the space available in which to install new machinery, the speed required by the company to maintain excellent packing rates and both the stability and shape of the product's bottle.
Following a consultation considering these requirements, Adpak was able to supply the machine with a special modification on the second pusher designed to help with the stability of the bottle and improve throughput.
This meant that the company's goal of eliminating the manual element of the packaging process, and enhancing efficiency and productivity, had been achieved.
Client testimonial
Noel Deane, Special Projects Engineer at Royal Sanders, said: "The Adpak BP800AR 150Z was a great success. The design really helped with our tricky setup and how we run the production line. The biggest challenge was to find a solution for the stability of the bottles, but the special modification on the pusher really made a difference."
For more information about Adpak's specialist range of packaging machinery and how our experts can help you achieve your objectives, please get in touch with the team today.