New XP650 ARX-T-VS by SMIPACK. The operational evolution of tray and film
The world of production has been paying more and more attention to the optimal use of available resources and is looking with growing interest at packaging solutions that ensure high standards of operational efficiency, product quality and advanced process automation. All this is aimed at achieving a perfect balance between competitiveness, energy saving and environmental sustainability of industrial activities.
Starting from these needs of business world, SMIPACK has developed a new model: the XP650 ARX-T-VS, that is an interesting evolution of the shrink wrapper XP650 ARX-T with 90° infeed and tray forming device, that has been on the market for several years. In addition to the main characteristics of the machine from which it derives, the new model is equipped with a motorized two-axis push-in device to replace the traditional system, that allows to significantly speed up the product grouping process.
Several solutions for a wide range of sectors
XP650 ARX-T shrink wrapper with 90° infeed is the ideal solution for packing a wide range of containers, especially oval, with a square or rectangular base, in glass, plastic and metal. In fact, this model allows to insert a corrugated cardboard tray at the base of the pack before the wrapping operation in shrink film. The cardboard blank is picked by a pneumatic picker and transported to the tray formation area by a motorized pitch chain controlled by inverter and encoder. Once the cardboard blank is placed under the moving products, the front and rear flaps are folded mechanically, while hot melt glue is sprayed on the side flaps that are then folded by a pneumatic device. After their formation, the trays containing products move to the film wrapping zone and then to the shrink tunnel. Thanks to this fully automated packaging process, the product is protected and its integrity is preserved during the storage, transport and distribution phases, in order to reach final consumers in perfect condition.
The advantages of the two-axis push-in device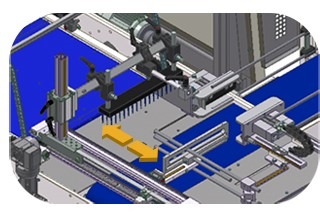 In the XP650 ARX-T model, pack formation takes place by means of a one-axis motorized push-in device controlled by a servomotor. This carries out the operation of product insertion by moving forward on the horizontal plane and then moving back to the initial position.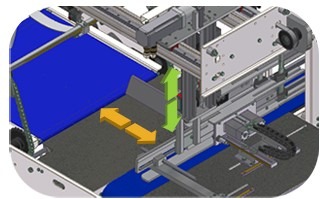 The XP650 ARX-T-VS version is instead equipped with a two-axis motorized push-in device. Controlled by a servomotor, that moves both horizontally and vertically, thus allowing loose containers to move faster on the infeed belt of the grouping area of the format selected by the operator through the control system.
This results in significant time saving, which increases the machine productivity. To better understand how this new model works click on the following video