Adpak celebrates 30 years in business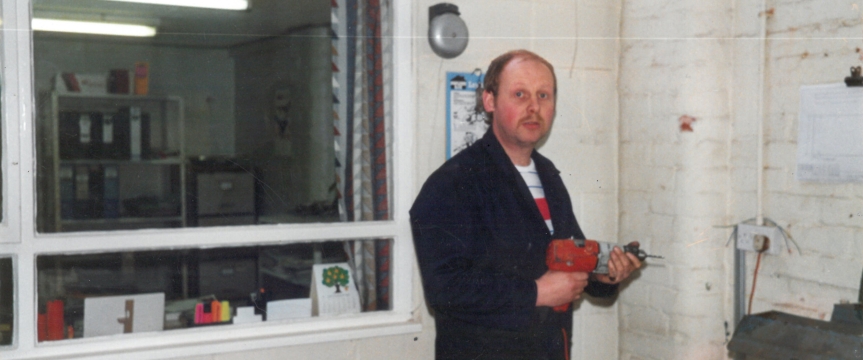 It was October 1987, weatherman Michael Fish was telling the UK a hurricane wasn't on it's way – only for the Great Storm of 1987 to hit hours later, Mike Tyson defeated Tyrell Briggs to become Undisputed World Heavyweight Champion and the Bee Gees had their fifth and final UK Number 1 with 'You Win Again',
Meanwhile in Burnley, experienced packaging machine salesman John Farrow and his business partner were registering a new company – Advanced Design Packaging with their own plans for success.
As Adpak prepares to celebrate it's 30th birthday, it's a good chance for John to reflect on those early days, the lessons learned along the way and what the future holds for him and the business.
Where did the name come from?
When we started out we sat for a long time with pen and paper working out a name that best suited the business and that we felt gave us the best chance to succeed. In the 80's a lot of the advertising listings and directories were based on alphabetical order, so we wanted to get to the top of the list. Adpak (short for Advanced Design Packaging) was born.
What were the early days like?
I've always worked in the industry so I had a strong contact book of suppliers and potential customers to rely on, and I was used to making the most of the tradeshows through the year. To this day we still regularly attend the tradeshows because you can do so much new business over a couple of days. It's hard work and you miss your home comforts but getting out to events like PPMA Show have helped make Adpak what it is today.
How important has Burnley and Nelson been in the Adpak story?
I'm a local lad so I was always going to start my business here and look to create jobs for people in Burnley and Nelson. It's a beautiful part of the world – with the contrast between old and new industrial buildings and the rolling hills of the Pennines. We originally started in Friendship Mill in Simonstone, and after a few moves around Burnley to accommodate the growing business, eighteen years ago we had a chance to build our own premises on Lomeshaye Industrial Estate. We were one of the first tenants to move onto the estate, so I can proudly say "I remember when all this were fields.." but it's been great to see the growth of the estate and what this has done for the area.
What have you learned in the last 30 years?
Surround yourself with good people and keep them happy so they stay with you. We've got a fantastic team at Adpak with three staff: Matt Birch, Dave Clegg and Greig Bridge who've worked here for more than 20 years each. In business you can't do it all yourself, so you're only as good as your team.
So, what's next for you and the business?
For me, Adpak's 30th year will be my last one working in the business – I'm retiring in the summer. I want to spend more time in the sunshine and enjoy my retirement. I might even try to improve my golf game – but anyone who's seen me play will say that might be a losing battle!
My children, Amanda, Anthony and Tina have worked hard over the last 10-15 years to make Adpak what it is today and I'm looking forward to seeing what they do next to make the business even stronger. We're constantly having to adapt to a changing market – for example the growth of e-commerce and next day delivery, and I'm confident Adpak will continue to thrive.
For more information on Adpak's range of shrink wrapping machines, packaging systems and films please visit www.adpak.co.uk or call 01282 601444.