Tray & film packaging, a new plus of the BP Series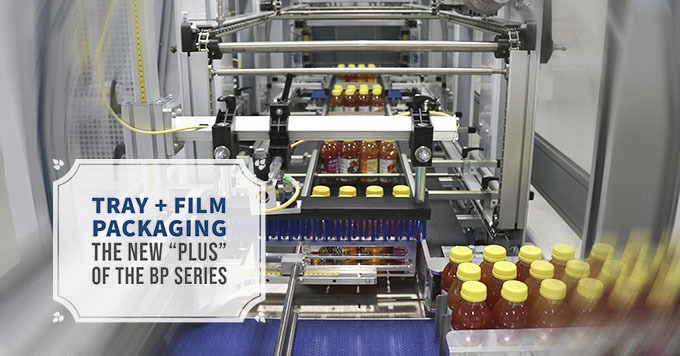 The several needs of the packaging industry are an important reason for innovating and providing our customers with new packaging solutions capable of meeting them. Smipack has therefore enlarged its historic BP series, by launching on the market the new models BP802ARV 280R-T with 90° infeed and BP802ALV 600R-T with in-line infeed; they can manufacture packs in cardboard tray + shrink film, which enables to get highly resistant packs, that properly protect the products during transportation and distribution.
Tray + film and maximum operational flexibility
BP802ARV 280R-T model with 90° infeed and BP802ALV 600R-T model with in-line infeed keep all the advantages of the standard BP ALV and BP ARV versions for packing products with sealing  bar system and double-chamber tunnel, adding the following features for the packaging in tray+film: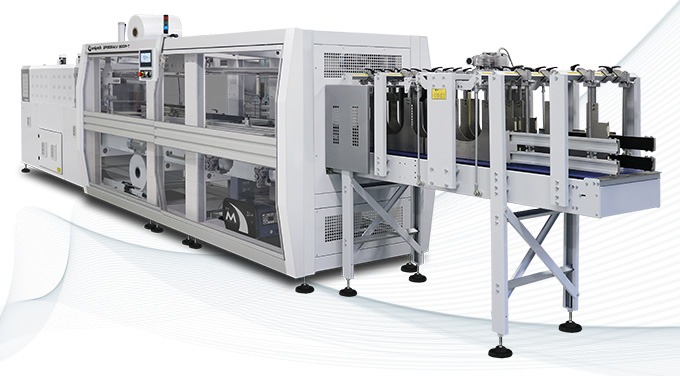 Carton inserting device with pneumatic picking by suction cups, to get a greater holding capacity of the carton and greater precision during  the placement on the pack bottom;
motorized, self-centering carton transport controlled by inverter and encoder for greater precision in the pack formation process;
mechanical cardboard insertion controlled by inverter and encoder, electronically synchronized with the arrival of the products to achieve an optimal squaring;
front and rear flap folding by means of mechanical device to preserve the format and prevent the movement of the content;
hot glue application system, which increases the tray resistance;
total sealing of the pack by means of pneumatic actuators that fold the side flaps after applying the glue, thus preparing the required tray format for the film application phase.
Tray + film packaging, a smart choice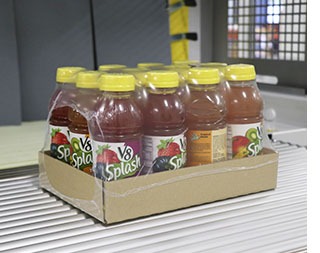 The use of cardboard tray for product packaging gives additional protection, thanks to the stability it provides. By using the shrink film, it is possible to optimally pack a wide range of containers of different shapes, thus getting the maximum protection during the distribution chain.
The new BP802ARV 280R-T and BP802ALV 600R-T models combine the functions of a tray packer and a shrink wrapper, resulting in multifunctional machines that produce high quality packages up to 20 packs/minute.
To learn more about the advantages and the operation of these new models see the video below.