Adpak – Events and Tradeshow Schedule 2018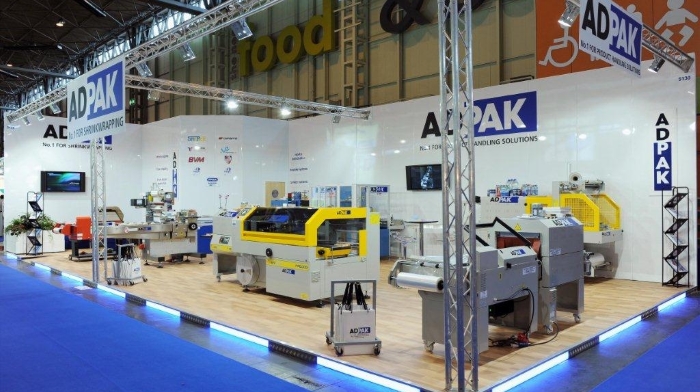 Adpak Machinery Systems will be exhibiting our range of packaging systems at a number of events and exhibitions in 2018, namely:
Empack 2018
Birmingham NEC
28 February – 1 March 2018
http://www.easyfairs.com/packaging-innovations-birmingham-2018/empack-birmingham-2018/
Packaging technology sets the pace for any supply chain, defining its speed, efficiency and reliability. That's why every year, brands and retailers from across the world flock to Empack to discover the latest advances in packaging technology and learn how they can transform their supply chain.
Co-located with Packaging Innovations and Label&Print, Empack 2018 offers a unique opportunity for decision makers from major brands, converters and retailers to get hands-on with a wide range of products, find new suppliers, discover the latest technological advances and catch up with current suppliers.
The Adpak team will be on stand F5 at Empack 2018.
---
Foodex 2018
Birmingham NEC
16-18 April 2018
https://www.foodex.co.uk/
The UK's premier trade event for the food and drink processing, packaging and logistics industries. A one-stop shop for manufacturing professionals across the full industry spectrum.
Foodex is co-located with the UK's largest Food and Drink trade event in 2018 – Food & Drink Expo. The show will shine a light on top trends across the food manufacturing sectors: from improving traceability and consumer trust, transforming productivity and highlighting the latest new ingredients and super foods to make an impression on the industry.
The Adpak team will be on stand W338 at Foodex 2018.
---
PPMA Show 2018
Birmingham NEC
25-27 September 2018
http://www.ppmashow.co.uk/
The UK's largest, free-to-attend, processing and packaging machinery exhibition, providing insights into the latest machinery products, technologies and materials.
Organised by the Processing and Packaging Machinery Association (PPMA), which comprises the PPMA, British Automation & Robot Association (BARA) and the UK Industrial Vision Association (UKIVA).
The Adpak team will be on stand C10 at PPMA Show 2018.
---
W Exhibition 2018
Birmingham NEC
30 September – 3 Oct 2018
http://www.wexhibition.co.uk/
The W Exhibition is the national show for the Joinery and Furniture industries, showcasing the latest products and developments. As the UK's leading dedicated trade exhibition, the W Exhibition provides the opportunity to see running woodwork machinery together with components and materials all under one roof at the NEC, Birmingham.
The Adpak team will be on stand M715 at W Exhibition 2018.